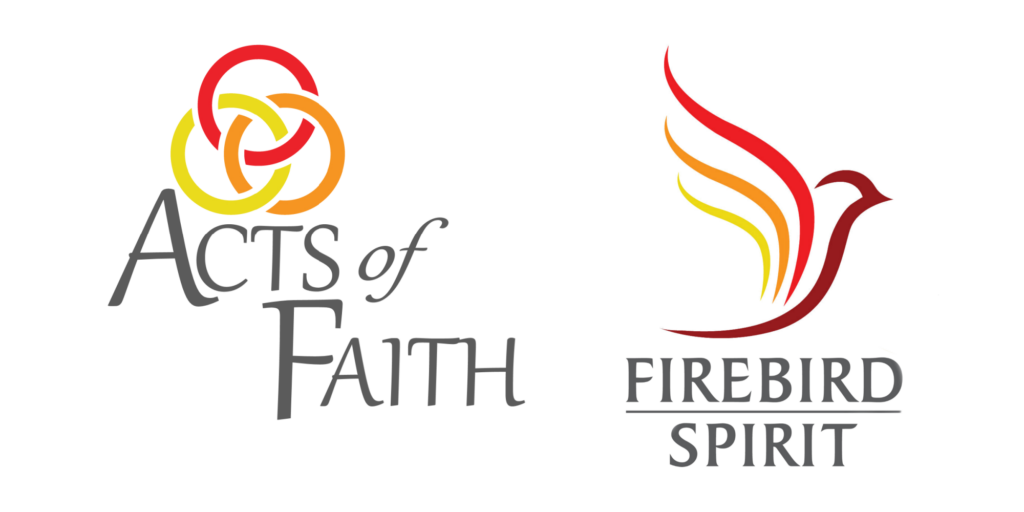 This Page is the Temporary Home of Firebird Spirit, Inc. as well as a Welcome to South Church's Acts of Faith Model of Ministry while FirebirdSpirit.org and ActsofFaith.org are under construction. Please scroll down to find what you're looking for.
The Acts of Faith is a model of ministry that adapts the concepts of the 1st century church to the 21st century.
Firebird Spirit, Inc. emerged when individuals, churches and mid-councils around the country sought to learn more about the Acts of Faith. No two churches are the same. Yet, by offering consulting and coaching services, we are able to share the South Church Experience with others as we help them explore their options for new mission and ministries.
Below are some introductory videos and printed materials to help you learn more about how this one "wee kirk" is redefining church. In 2019 (pre-COVID), our 50 members supported 20 Acts of Faith that had 250 people involved weekly, 5,926 different people in the course of the year, and 25,399 different contacts with people through these ministries. Think about that: this "merry little band of believers" provided close to 25,000 opportunities for people to "bump up against Jesus" through them. Post-COVID in 2022, our 40 members supported 15 Acts of Faith that had 160 people involved weekly, 341 different people in the course of the year. And while a small percentage participated in more than one AoF, that gave us 6,068 contact points where people "bumped up against Jesus" through us in person or on zoom in this post-COVID world! When you add our 2,433 YouTube views, there were close to 8,500 opportunities for the Spirit to work through church members in touching the lives of others and sharing the Good News.
Fewer than 40 members with
more than 8,500 contacts.
While their experience of this model coincided with selling their church building and becoming a 100% missional church … yours may not.
You don't have to sell your building to be missional!
You just have to be open to God re-defining "church" and
replacing it with a "faith community."
We are happy to field your questions, to welcome visitors, and to arrange for members of our Firebird Spirit team to visit you, if that would be helpful. Our whole life boils down to the prayer:
Put us where you want us, and
Show us what to do!
Wondering who we are? Here are some Letters of Introduction CLICK HERE
Testimonials & More
In 2019, members of the San Fernando Presbytery (in Los Angeles) came to Rochester in order learn more about the Acts of Faith Model of Ministry. Although you don't have to leave your building to be missional, this 7-minute video gives voice to some of South's long-time members about their experience.
In 2017, South invited its members to make 20-second videos on their smart phones. Here's what they want you to know about the Acts of Faith Model of ministry.
Another 2019 video shot by our friends in Los Angeles speaks not only about South Church, but how it is that the mid-council — Genesee Valley Presbytery — assisted with developing and trying a new way of being the church.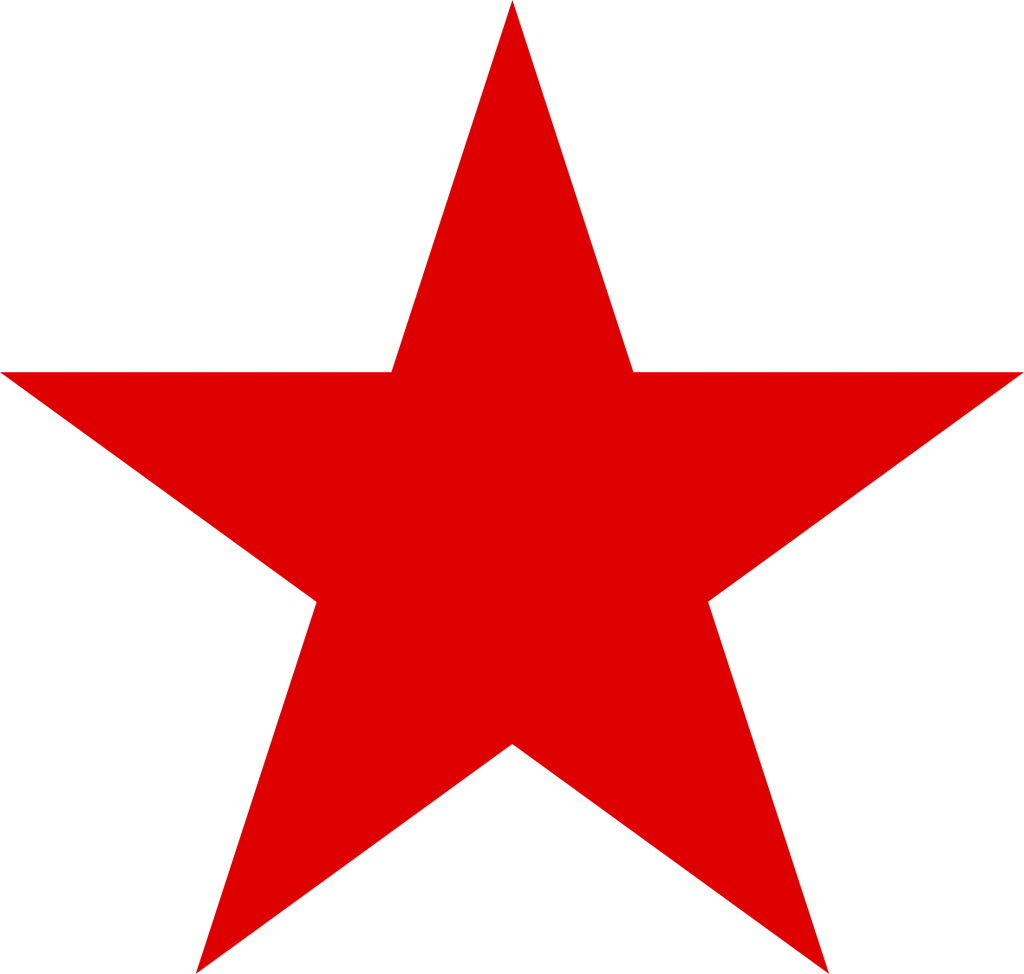 The Acts of Faith Model of Ministry white paper –
CLICK HERE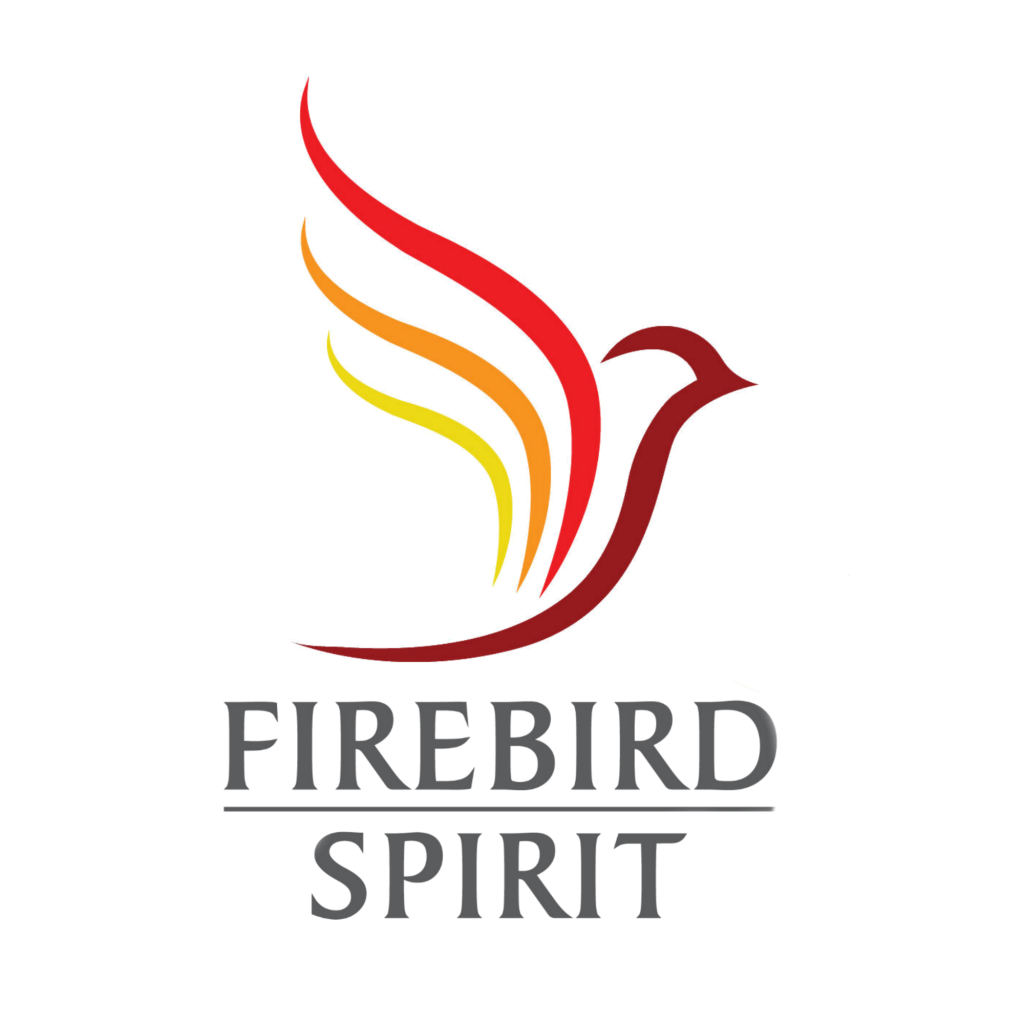 And now some information on Firebird Spirit
Learn more about how we might be able to work with you, your church
and/or your mid-council.
Just CLICK HERE!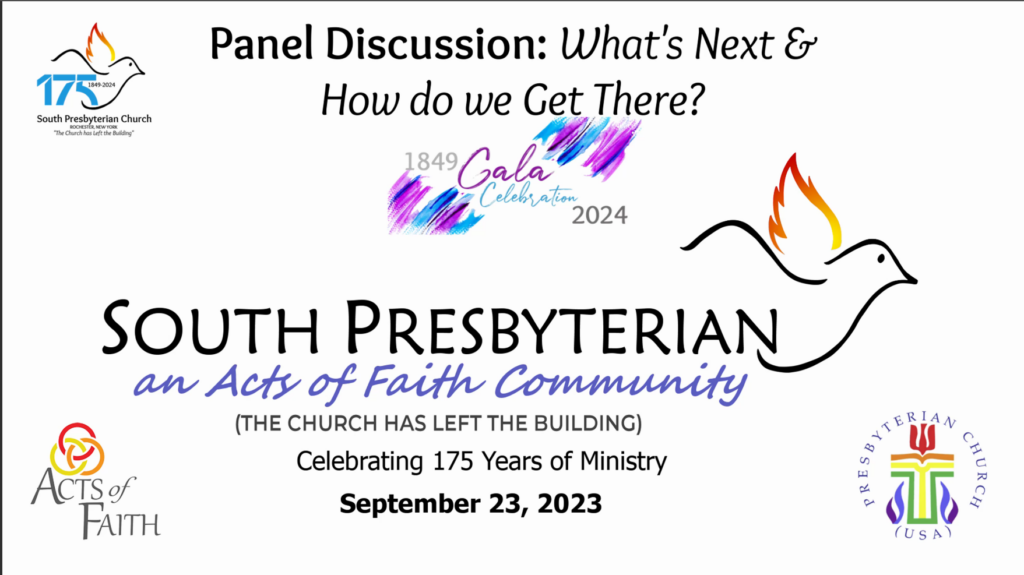 Panel Discussion: What's Next and How do We Get There?
Pastor Whitney Scoville (Pastor of Pray & Play); Elder Barb Sixbey (Firebird Spirit / Acts of Faith); Rev. Dr. Ray Jones (PC(USA) Director of Theology, Formation & Evangelism) with Susan Orr, Presbytery of Genesee Valley Transitional Leader & Stated Clerk as Moderator. CLICK HERE
Program Offerings and Payment Options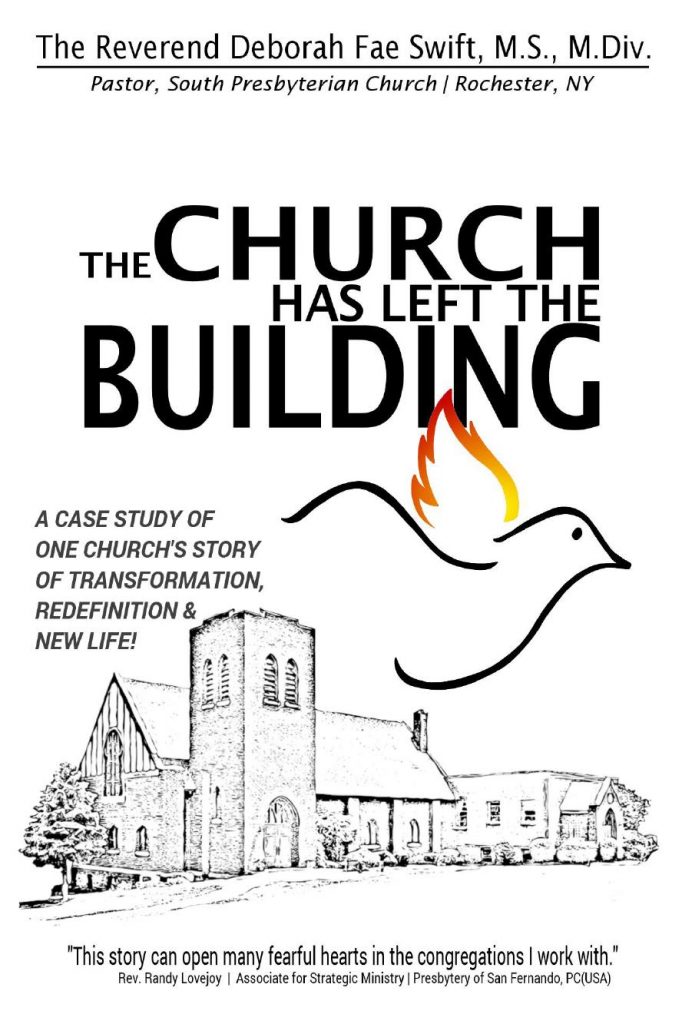 You may purchase single copies of the book for $24 (includes lower 48 U.S. shipping)
by clicking the GIVE button and selecting "Book Sale" from the options.






OR

buy an eBook version for $10 (from the Community Learning Lab) by CLICKING HERE and typing


Church Has Left the Building

in the search box at the left.
For bulk sale discounts, please contact the church office for a custom invoice: office@southpc.org
The Clergy discounted price is $10. Please call (585) 271-5078 or email office@southpc.org to order.