The Reverend Deborah Fae Swift, Pastor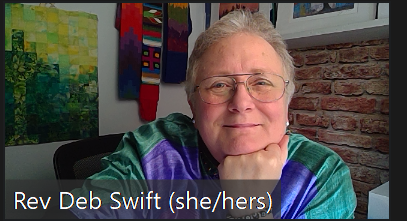 Pastor Deb came to South Church in 2008, following successful careers in music education and community organizing. She lives in the city as a mom, gardener, and warrior for justice and joy.
She is the author of The Church Has Left the Building – A Case Study of One Church's Story of Transformation, Redefinition & New Life, is the Executive Director of Firebird Spirit, Inc. – a nonprofit devoted to assisting churches in becoming more missional, and is a member of the International Coaching Federation.
A transformative thinker and visionary, she is committed to providing meaningful worship and pastoral care to all people.
Interested in what the Pastor believes? Check out her personal Statement of Faith.

Pastor Deb's Sermons – When we began uploading our weekly Worship Services, the printed versions were no longer placed here. Please go to our YouTube Channel for all sermons in March of 2020.

Older Blog Posts from Pastor Deb