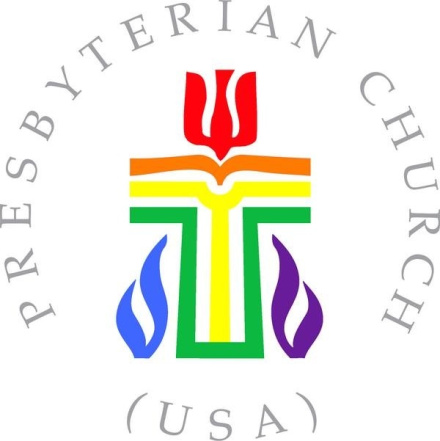 Thoughts from the Pastor on Pride Sunday 2019
On this 50th Anniversary of the Stonewall riots … here is a reminder of where our church (both the PC(USA) and South Presbyterian's Acts of Faith) stands on LGBTQ inclusion. I know that this is an issue that many have been taught over the years is "unChristian" (as if Christ taught that anyone was beyond love and grace). And truly, none of us professes to know the mind and heart of God (after all, God, alone, is Lord of the conscience). But always, Jesus worked to include those people that others did not; always, he held to radical hospitality, even though his culture, society, and religious leaders were often in opposition; and always, he was open to changing his mind (as he did when confronted by the syrophoenician woman (Mt. 15) who reminded him that even the dogs ate the scraps from the Master's table).
Bible Study is important – for all of us … not just seminary students. It's been my experience that if Christians went to Sunday School at all, they usually stopped at the end of 6th grade. But where else in life would we expect to operate as adults with a 6th grade education … a 6th grade level of understanding? Nowhere. In all other areas, we recognize that our thought processes, our experiences, and our ability to do critical thinking have changed significantly since we were 12 or 13. Yet when it comes to the Bible and living out our faith, many are still operating from a Biblical interpretation that we last learned in Sunday School. Well, I just have to tell you that scholarship has advanced since we were 12, and I don't care how good your understanding of English is ("I read the Bible every day. I can understand the words.") our scripture was not written in English! (which, alas, is why every Presbyterian seminarian has to slog through and learn Biblical Hebrew and Greek because those were the original languages) As anyone can tell you who has studied a foreign language — the translation is everything. It conveys idioms, culture, and the mind of the interpreter. And frankly, when you're studying an ancient culture – like one that was 2,000-5,000 years ago – archaeological studies shed light on the meaning of things, too.
For hundreds of years, the Bible was used to promote and justify slavery. Yet now, today, most of us recognize that slavery is not part of the Kingdom (or the Kin-dom) of God. I mean, really … the Bible calls for us to cut off a wife's hand if she grabs the genitals of any man fighting with her husband (Deuteronomy 25), not to wear clothes made of both linen and wool (Leviticus 19), "You shall not round off the side-growth of your heads nor harm the edges of your beard." (again, Lev. 19 – so much for that old Beatle haircut!), no tattoos (same chapter of Lev.), and 1 Timothy 2 (see, it's not JUST the Hebrew Bible/Old Testament) says: "Likewise, I want women to adorn themselves with proper clothing, modestly and discreetly, not with braided hair and gold or pearls or costly garments." (So much for fashion and jewelry.)
My point is that we seem to pick and choose the parts of the Bible that we want to.
I wrestled with this "issue" (if it's ever right to call a whole community of people an "issue" — that's like calling asylum seekers "illegal immigrants" … it dehumanizes them and makes it easier to forget that each is a beloved child of God) … I wrestled with this topic years ago, believe me, until I realized that "for me and my household … we will follow Jesus." And Jesus invited people in. He wrapped his arms around them and accepted even those who were despised by the cultural norms and the laws of his day.
Today, I am grateful for the bravery and steadfastness of those who fought for human rights for all LGBTQ people in the last 50 years … and for those who have died for those rights both in the last 50 years and BEFORE that.
As I saw recently in a meme somewhere: I would rather be excluded for the people I include, than included for the people I exclude.
Happy Pride, everybody! Remember that God created the first rainbow!
Stances of Faiths on LGBTQ Issues:
Presbyterian Church (USA)
BACKGROUND
With its roots in the 16th century teachings of John Calvin, the Presbyterian Church (U.S.A.) boasts 1.4 million members who participate in more than 10,000 congregations across the country. The largest Presbyterian organization in the country, the denomination was formed in 1983 when the southern-based Presbyterian Church in the U.S. (PCUS) joined the northern-based United Presbyterian Church in the U.S.A. (UPCUSA) to form a single entity. The Presbyterian Church (USA) remains distinct from the Presbyterian Church in America, which tends toward less inclusive policies.

The Presbyterian name derives from the Greek word for "elders" – lay leaders who govern the church and are chosen by its congregants. According to the denomination's web site, elders work closely with clergy to, "exercise leadership, government, and discipline and have responsibilities for the life of a particular church as well as the church at large." Elders serve at every level of leadership from "sessions," which govern a single church, to "presbyteries," consisting of regional church communities, to the General Assembly, representing the entire denomination.
LGBTQ EQUALITY
ON SEXUAL ORIENTATION & GENDER IDENTITY
In 2018, the 223rd General Assembly of the Presbyterian Church (USA) voted to affirm its commitment to the full welcome, acceptance, and inclusion of transgender people, people who identify as gender non-binary, and people of all gender identities within the full life of the church and the world. It went further to lament "the ways that the policies and actions of the PC(USA) have caused gifted, faithful, LGBTQIA+ Christians to leave the Presbyterian church so that they could find a more welcoming place to serve, as they have been gifted and called by the Spirit."

Experiences may differ greatly across individual communities but many congregations are entirely welcoming and inclusive.
ON MARRIAGE EQUALITY

In 2014, the General Assembly passed a measure that permits ministers and sessions (local church government), "to use their own discernment to conduct same-sex marriage ceremonies where allowed by law." In addition, the General Assembly recommended an amendment to update the description of marriage in the denomination's Book of Order so that it would no longer exclude same-sex couples. Effective June 2015, the amendment to the Book of Order updates the description of marriage as "a unique commitment between two people, traditionally a man and a woman." The latter was added during debate of the amendment on the floor of the General Assembly out of respect to the denomination's more conservative members.
ON NON-DISCRIMINATION
At the 223rd General Assembly in St. Louis in June 2018, the Presbyterian Church (USA) voted unanimously on resolution calrifying the church's position that "religious freedom is not a license for discrimination against any of God's people, and cannot justify the denial of secular employment or benefits, healthcare, public or commercial services or goods, or parental rights to persons based on race, ethnicity, sex, gender, sexual orientation, gender identity, religion or gender expression."
ON ORDINATION
In 2010 the General Assembly approved an amendment that allows ordination of openly LGBTQ ministers at the discretion of individual presbyteries and sessions, essentially allowing each congregation the decision to ordain or not. The amendment was ratified in 2011, following approving votes from a majority of presbyteries. In 1996, Erin Swenson became the first transgender minister to serve in the Presbyterian Church (USA) when members voted to continue her ministry following her transition from male to female. The denomination's history of ordaining women as elders reaches back to 1883.
---
RESOURCES
Covenant Network of Presbyterians, is a broad-based, national group of clergy and lay leaders working for a church that is simultaneously faithful, just, and whole.

More Light Presbyterians, a national organization working for the full participation of LGBTQ people in the life, ministry and witness of the Presbyterian Church (USA) and in society.
CONTACT INFO
Presbyterian Church (U.S.A.)
100 Witherspoon St.
Louisville, KY 40202
Website: www.pcusa.org
If you would like to speak with one of the pastors about this, or any other matter, please call the church office for an appointment (585) 271-5078
or use the Contact Us tab above.